Executive Summary
BuyDomains makes it a quick, easy and painless process to get you setup with a memorable and keyword-rich domain. Domains can be pricey, but well worth the investment to start getting your business to stand out. Anyone picking up a domain from BuyDomains will enjoy the speediness of the process and what there is to offer.
Compare Web Hosting Companies
Highlights
Comes with a free month of web hosting through a partner
Transferring a domain to your registrar of choice is a painless process
Offers bulk discounts if purchasing more than one domain
Pros
Quick and easy to find a domain name
BuyDomains makes checking out a speedy process
Sales representatives are willing to help you find what you're looking for
Cons
Lacks a lot of extras
Can be costly
Customer support could be better
Ease of Use
BuyDomains is extremely easy to use. The whole process of buying a domain name is quick and seamless. If you know of a domain you want offhand and BuyDomains has it for sale, generally you have your domain bought and paid for in under 5 minutes. It's a quick process, but also very easy to go through.
Once you land on the BuyDomains website, you can instantly search for a domain name. If you find one you like, it's as simple as pressing the "Buy Now" button to obtain a domain. If it's a little too pricey for you, BuyDomains makes it quick and simple to send an offer. You simply press the "Make offer" button, type in your offer and contact details, press "Submit Offer" and then they'll get back to you soon. To speed up the process, you can always call the phone number given to make an offer as well.
BuyDomains also makes it easy to filter your results. Right next to the search bar is a group of filter options, allowing you to search by the type of domain you want (e.g. .com, .net, .org, etc.), hyphens or no hyphens, a category, and you can even set a minimum and maximum price range.
All of these features work together to make the finding and purchasing process at BuyDomains as quick, easy and painless as possible.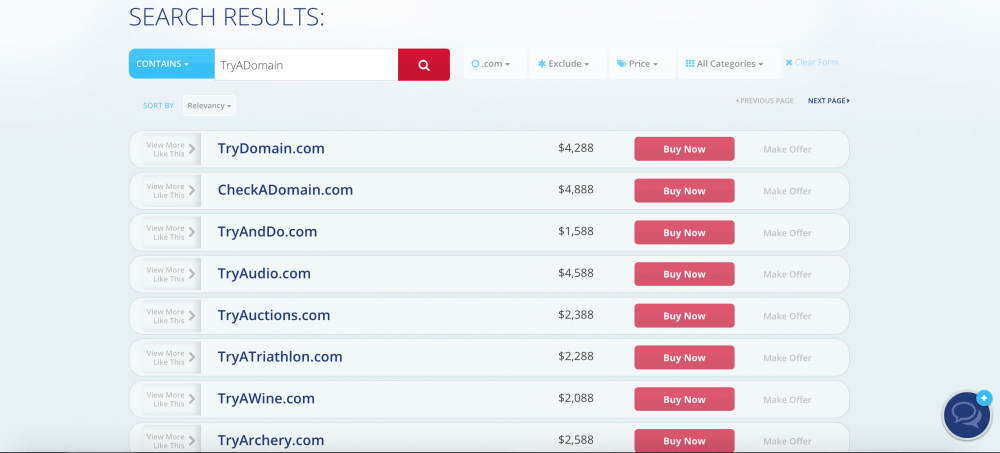 Cost
The cost of domains highly depends on what you're looking for. BuyDomains doesn't have a set price — the range is all over the place. Some domains will cost you more at $5000 (or higher) while other domains will cost you less at around $600 (or lower). Generally, what BuyDomains considers to be lower value domains will be your cheaper option. Likewise, what BuyDomains considers to be higher value domains will be your more expensive option.
If you're new to purchasing a domain from a reseller like this, the cost can seem a bit outrageous or crazy. After all, why spend upwards of $5000 on a domain when you can just come up with one for $10 or some change from other domain providers. Well, what makes these so valuable is that these domains are usually in plain-english (because so many domains have been purchased, coming up with a domain name now usually involves some wonky language in the URL) and have catchy names, giving you strong branding potential. Not only that, but many of these "premium" domain names are easy to remember and keep bringing visitors or customers back.
Customer Support
BuyDomains has helpful customer support for what they offer. Their sales and domain experts are more than happy to guide you through the process of picking out and buying a domain. They're also more than willing to answer any questions you might have about your domain purchase. Not only that, but one of their experts can help you out in transferring your domain to your registrar of choice.
Like we said, it's good for what it is. All BuyDomains is is a domain reseller, so the amount of customer support you'll need is minimal, and thus, the amount they offer is pretty minimal as well. But, they're more than willing to answer any question you might have. Not only that, but if you don't want to contact them, you can simply fill out a form with your contact information and they'll drop you a call or an email after submitting it.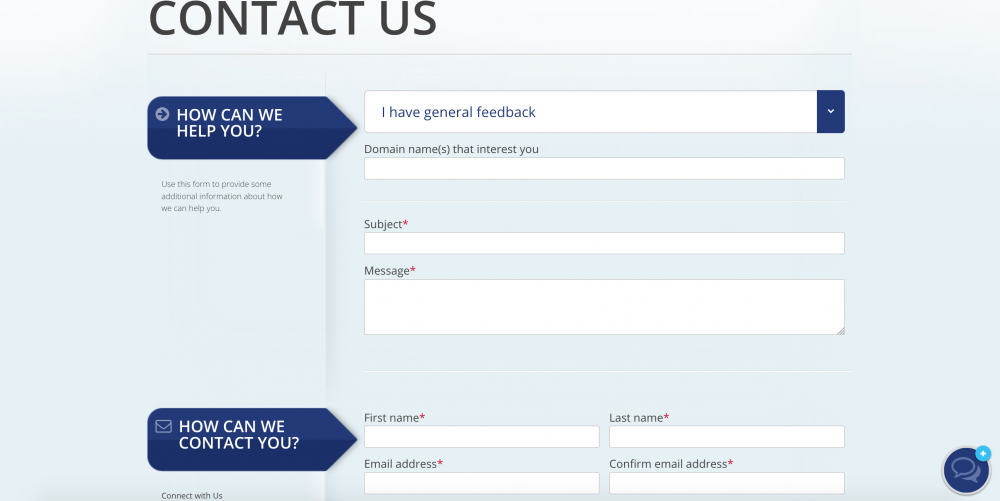 How it Stacks Up
BuyDomains doesn't offer much aside from a domain with your purchase. You can get web hosting through companies BuyDomains partners with, but that's about it. In that sense, BuyDomains isn't necessarily the best reseller to go to. If you're looking to get more for your money, many domain resellers will offer you a bit more in the package.
It varies from competitor to competitor, but generally, you can get a domain that comes with fully branding packages that include an already designed logo. Other resellers will throw in free SSL security with your domain purchase. BuyDomains does offer a single month of free web hosting through a partner company, but if you're eyeing picking up a premium domain name, you're probably looking for at least commercial grade hosting as well, such as VPS, Cloud or Dedicated hosting.
Return on Investment
If you're buying a domain name from BuyDomains with the intention of launching a business or site that will make you money, your return on investment is going to be quite high. Purchasing a premium, plain-english and catchy domain will only help you drive your brand, and thus, your profits. But, it truly depends on what you plan doing with the domain your purchasing. If it's something where you plan on going all-in on a business or online store for, then there's no doubt you'll make your money back easy.
After all, a good domain name is invaluable — it's essentially the face of your business or website; you need it to be in plain-English, catchy and memorable. And BuyDomains will be able to help you out with just that.
Conclusion
All in all, BuyDomains isn't a bad reseller to go with if you're just looking to pick up a domain name. If you're looking for extra goodies, such as free SSL certificates or pre-designed branding, you're not going to find that with BuyDomains, unfortunately.
Compare Web Hosting Companies
Copyright © 2009-2018 How Vps All Rights Reserved.

By using our content, products & services you agree to our Terms of Service and Privacy Policy.

Reproduction in whole or in part in any form or medium without express written permission of How Vps is strictly prohibited.