In a Nutshell 
Domain Factory offers plans ranging from entry-level packages to high-level managed hosting with a 60-day money-back guarantee for new customers and reliable servers with 99.9% uptime.
Visit Site
Pros
User-friendly site tools help beginners get their site up fast.

High-level programming options include Perl, Python, and PHP 7 and 5.

SSDs help dynamic sites load very quickly.

More than 15 peripheral applications are available to aid site customization.

Site provides extensive protection measures, such as daily backups and antiviral email protection.
Cons
Multitude of options could be overwhelming for newbies

Help forum is only in German

Lack of 24/7 customer service could lead to frustration
From the easy-to-read comparison chart detailing the differences between various plan levels to the actual website building utilities, Domain Factory is all about user-friendly functionality. Complete beginners can make a basic site, while those with programming knowledge can experiment with free apps and delve further into complex customization. The only potential negative is the language barrier, as the site and forums are in German. Even so, while the inconvenience stands, it shouldn't overshadow the other very positive qualities of the site.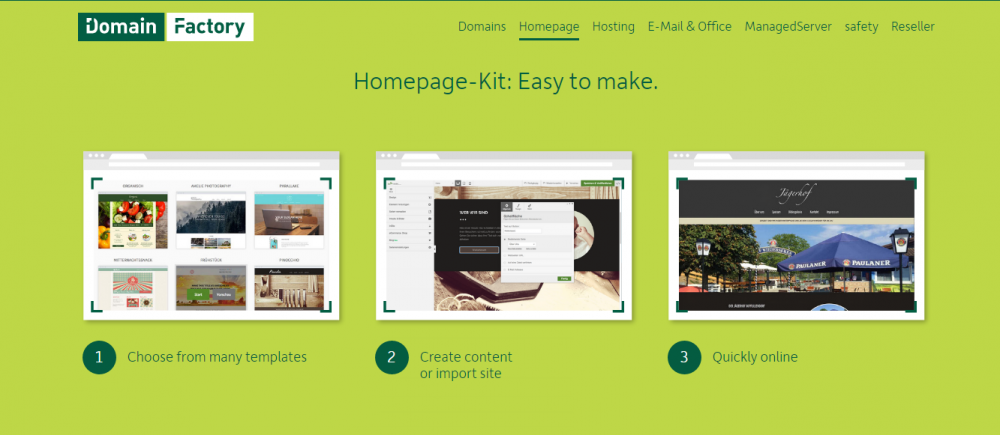 Return on Investment
Domain Factory offers excellent return on investment. Plans start at just $4.24 per month for basic hosting, and even that plan includes MySQL, 25GB each of mail and web space, one-click site installation and more. Add-ons like extra web space or SSH access are available a la carte, so customers can opt to spend extra money only on those features they deem essential.
Customer Support
Domain Factory prides itself on prompt customer service. In addition to calling the company during their extended hours (7 days a week), customers can send an email or ask questions via live chat. Turnaround is remarkably fast; Domain Factory says that the wait time on phone calls is just 50 seconds, and emails are answered in an average of 3.6 hours. There is also a thriving help forum, though the posts are all in German.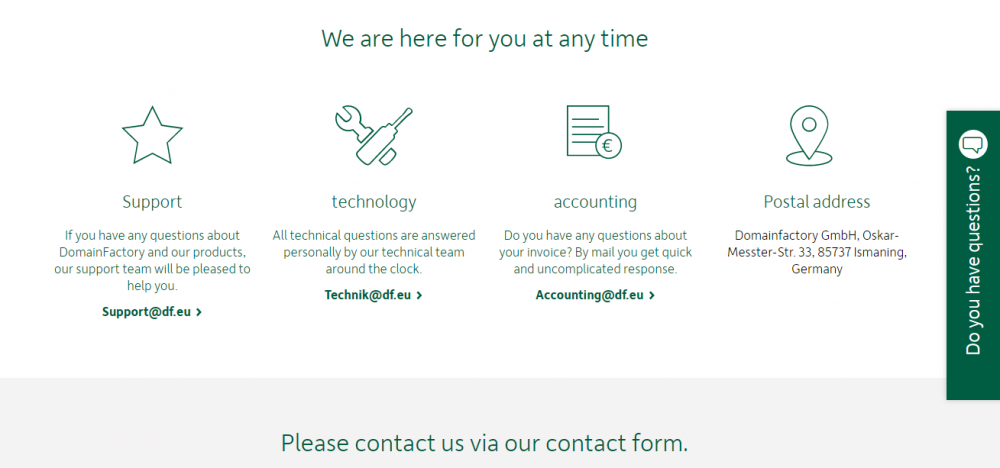 Scalability
Sites have plenty of room to grow at Domain Factory. Customers can hop up the ladder from basic plans to more complex packages, with high-performance manager server packages waiting at the top. The Homepage Builder gets sites up fast, and built-in design features like responsive design optimization and SEO tools ensure Domain Factory's hosted sites get plenty of traffic no matter what device (laptop, cell phone, tablet) they're being accessed on.
Features
Domain Factory is jam-packed with features. They have 15+ applications, including Joomla​ and WordPress, all of which can be installed with a single click. There are also forum apps, gallery options and OXID SHOP for clients who want to sell products online. Domain Factory offers site templates, drag-and-drop content transfer, targeted advertising campaign capability and even data sorting solutions like Wiki apps.
Conclusion
Domain Factory's web hosting services are varied, affordable and offer great value to both new and experienced customers. While the language barrier might prove frustrating for some, a good browser translation plug-in and some determination goes a long way, and the services are worth the trouble.
Visit Site
Copyright © 2009-2018 How Vps All Rights Reserved.

By using our content, products & services you agree to our Terms of Service and Privacy Policy.

Reproduction in whole or in part in any form or medium without express written permission of How Vps is strictly prohibited.