Established in 2011 with certification from FindMyHost, Cloudways is an all-inclusive cloud hosting solution that delivers hosting and website building services handled collectively. They provide a simple platform that anyone can use, and have earned awards like Best Managed Cloud Host (WebHostRanking) and listings at KillerStartups and Startup Tunes.
Compare Web Hosting Companies
There are nearly one billion websites online today – that's a lot of competition, so having the right hosting solution could mean the difference between success and failure. Cloudways cloud hosting offers:
50-100x faster load-time guaranteed/
All-in-one solution for small-medium businesses
1-click SSL (secure sockets layer) certification
15+ key metrics monitoring
Fully-managed, dedicated cloud servers
Team collaboration
Easy migration
No email service or domain registration
24/7 customer support
Packages ranging from $5 -$1,308
Ideal For
Cloudways is the perfect fit for small- to medium-sized businesses because they handle all application hosting aspects from building to server maintenance, backups and security. The site is designed so that designers and developers can enjoy the feature-rich platform, but non-technical users can also navigate the system with ease.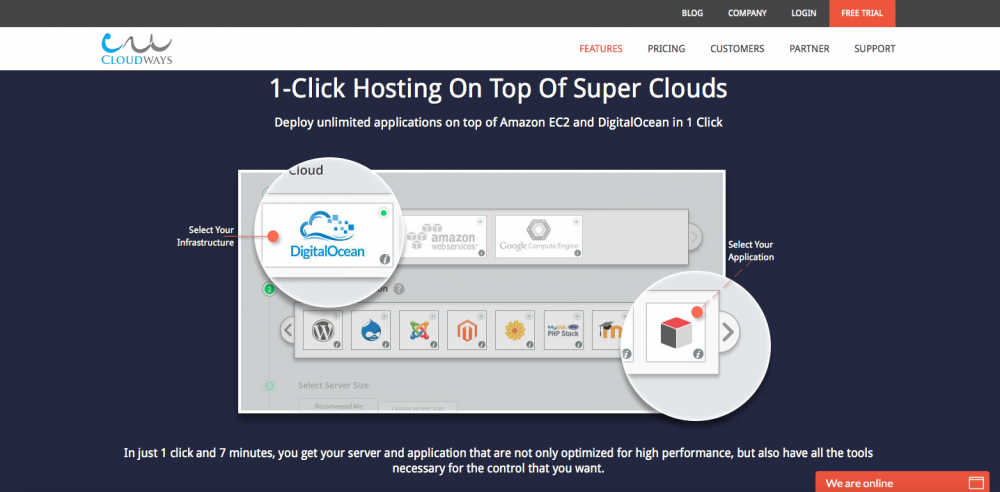 Hosting Features
Significant Cloudways features include:
– Dedicated cloud servers.
– Cloudways provides their own control panel that allows users to navigate all areas of the platform quickly using 1-click scaling, backup/restore, and cloning. Clients can also refresh or restart services, manage settings, and troubleshoot through the control panel.
– Nginx + Apache deployment so you can easily host apps on a solid web server.
– Compatible with Drupal, SugarCRM, etc. for easy content creation.
– Intuitive management console.
– SSL installation, an integral security feature that encrypts transactions.
– Preconfigured with Varnish and Memcached. Caching tools save frequently accessed information for faster loading. Cloudways incorporates these tools for instant access.
Server Types
Cloudways offers Linux-based dedicated cloud servers that support AWS, Vultr, DigitalOcean, and Google's Content Engine. Cloudways allows unlimited domain hosting with auto-updates/backups and security features like firewalls for safer transactions.
Pricing
Cloudways has competitive value-for-money pricing options compared to the industry standards. So while customers may end up paying a lot (though not necessarily), they end up getting even more out of the deal.
| RAM | DigitalOcean/month | Vultr/month | AWS/month | Google Cloud/month |
| --- | --- | --- | --- | --- |
| Entry | $5 (for 512MB) | $9 (for 768MB) | 1.7GB – $38.60 | 1.7GB – $36.28 |
| 1 GB | $15 | $14 | 3.75GB – $91.10 | 3.75GB – $69.95 |
| 2 GB | $30 | $29 | 8GB – $184 | 7.5GB – $135.64 |
| 4 GB | $70 | $66 | 16GB – $364.30 | 15GB – $259.17 |
| 8 GB | $140 | $132 | 32GB – $678.20 | 30GB – $499.04 |
| 16 GB | $280 | $264 | 64GB – $1308.70 | 60GB – $957.66 |
Email
Cloudways doesn't provide built-in email services; however, customers can use add-ons such as RackSpace and Gmail SMTP.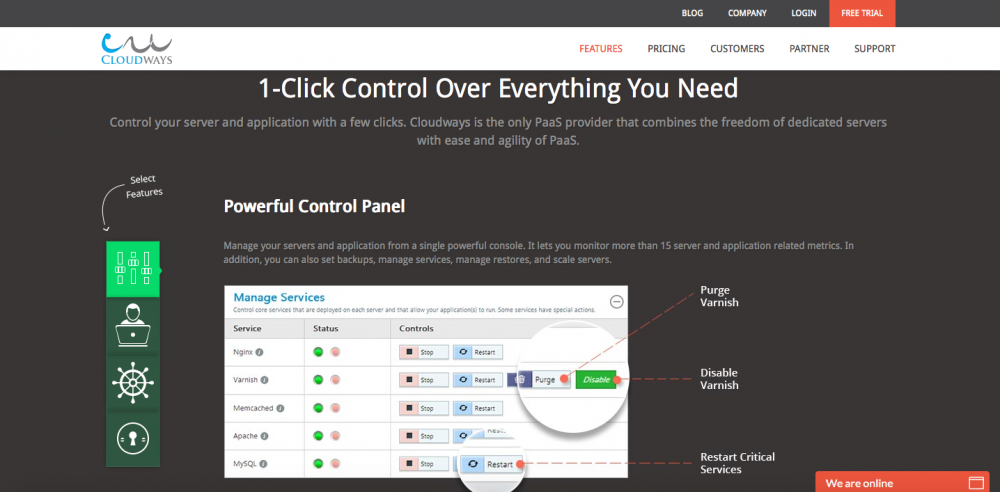 Ease of Use
Cloudways is a simple solution for non-tech people. We found signing up to be extremely easy with instant signup, and setting up, familiarizing ourselves with the site took just a few minutes. The overall site is clean and the dashboards/consoles are easily managed. As mentioned above, Cloudways doesn't include email servers, which might be frustrating, but does have email add-ons.
Cloudways offers 1-click installation, automatically integrating with WordPress, and users can migrate existing sites within minutes. There are also intuitive site builder and ecommerce tools, making this part of the process a smooth transition.
Website Builder Features
Cloudways loses points for not providing domains registration. Customers can purchase domains separately, adding unlimited domains to the Cloudways system, and update the DNS records at the local domain registrar. This could be an additional hassle that consumers might not appreciate.
Cloudways does, however, have WordPress, Joomla, Magento and WooCommerce site builders (among others), and several ecommerce tools such as Memcached, Nginx, SSL-integration, built-in MySQL manager for easy database management, and a cloning feature to copy apps or websites instantly.
Pros & Cons
Pros:
– Server and app management in one area
– Free auto-backup of all data, including websites and databases – the backups are hosted on an offsite, Amazon S3 server to ensure safety
– Convenient server scalability; 1-click scaling as traffic grows
Cons:
– Lacks domain registration
– No email servers
– Pricey – storage won't come cheap
Customer Support
Cloudways customer support includes:
Live chat, in-depth support center, phone support, and e-tickets
98% recommendation/satisfaction rate
Phone/email queries answered within 1 hour
Video tutorials
Bottom Line
Cloudways is an all-in-one solution, helping app and site developers manage various hosting aspects efficiently. Their dedicated servers have reliable uptime, fast performance, and effortless scalability, and the site provides excellent functionality, even for laymen. With 1-click SSL installation and convenient customer support, Cloudways has plenty to offer businesses. Start your free trial today, and see if Cloudways is the solution to your hosting problems.
Compare Web Hosting Companies
Copyright © 2009-2018 How Vps All Rights Reserved.

By using our content, products & services you agree to our Terms of Service and Privacy Policy.

Reproduction in whole or in part in any form or medium without express written permission of How Vps is strictly prohibited.