Overview:
iWeb have been offering hosting solutions for almost two decades. Based in Canada, they have clients in over 150 countries, and are proud to offer customer support in 3 languages, English, French and Spanish. They carry the Microsoft Gold Partner accreditation for their dedicated servers which is the highest level they can achieve in datacentre competency, and are a green company, with their data centers powered by 98% hydroelectricity. Join the 25,000 servers provided by iWeb's data centers today.
Compare Web Hosting Companies
Hosting Features:
Core Hosting Features:
Marketing & Bonus Features!

Intel Dedicated Servers

Scale RAM and Storage Independently

Scalable Cloud Servers

Quick and Easy iWeb Control Center

SolidFire SSD Storage

Cloud Hosting Powered

by 100% Renewable Energy

100% Network and

Power Uptime Guarantee

Disaster Recovery

and Rapid Response Monitoring

Server and Clustered Solutions
Hybrid Environments

Cloud Server Offers

Up to 8GB of RAM

24/7 Customer Support
Hosting Technology:
iWeb offers dedicated and cloud hosting servers for every business need, using both Linux and Windows. If you are looking for cloud based hosting, iWeb boast 2x faster disk speeds than other public cloud hosting, and allow you to deploy your self-service cloud server in a matter of minutes. You will receive high levels of CPU/RAM and super fast SSD storage, as well as a dedicated 100Mbps of bandwidth. Redundant copies are kept for secure data, and iWeb include a burstable IOPS to allow you to support workload spikes without any effect on your uptime. All of this is accessed and managed from the iWeb control center, which gives you root access via console and SSH and even allows you to independently scale your RAM and storage.
If you need a Dedicated server, iWeb offer single and dual processor options, as well as storage and performance packages. These are all served with an Intel Core /Xeon data center server, and start from 3.4GHz, 6 cores, up to 64GB of RAM and 4TB of storage. The single processor offers 12TB to unmetered traffic, while the dual processor option increases this to 30TB, and allows for 256GB of RAM and 24 cores.
Pricing Concerns:
iWeb cloud servers come on both Linux and Windows operating systems and start from as little as $43.80 per month for 50GB SSD and 1GB RAM on 1 vCPU on Linux, and $58.40 using Windows. This increases as the storage needs of your business does, with the largest package allowing for 8GB RAM and 250GB SSD on 8 vCPU for a competitive $386.90 per month.
Dedicated servers start from $79.00/month for a singer processor, $129.00/month for a dual processor, and the prices begin at $334.00 monthly for storage or performance solutions.
Customer Support:
As you would expect from a premium server solution, the customer service offered is top notch. As well as offering telephone support in 3 languages, they offer 24/7 live chat from the website. When we tried this out, the service was immediate and both knowledgeable and friendly.
The company favour a proactive approach to customer support, getting in touch with you directly when you buy a new server. They offer priority support services which fix the problem before you even know there is one! All network issues and server status can be easily found from the website, allowing you to keep on top of potential issues and troubleshoot effectively.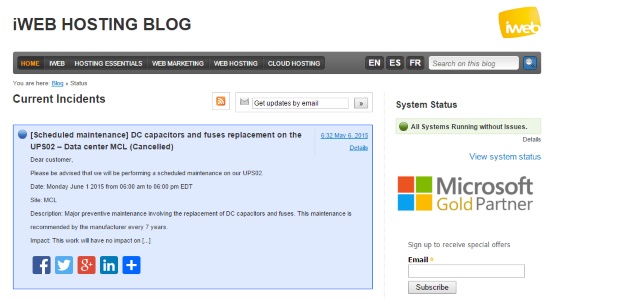 Reliability:
With server locations around the globe, from Montreal to Singapore, and two US locations, iWeb offer dedicated server hardware and OpenStack cloud computing which is engineered to the highest performace possible for the best reliability for your business.
No bottlenecks, no wasted resources and no weak links. Simply order your sever online, and it will be deployed on demand in your own choice of location, set up for the flexibility of scaling as and when you need. All new products are extensively tested to ensure you get the best of the latest technology. Custom solutions allow for support for a private cloud, as well as disaster recovery, business continuity and situations where you need high levels of availability for your website. The iWeb control center is a simple integrated interface which handles backup management, servers and upgrades, and firewall management.
Building a Site:
iWeb do not provide website building tools as they are a dedicated server provider rather than a web host or web building platform. They partner with www.funio.com for all your web building, or shared hosting needs.
Bottom Line:
With almost 20 years of experience, iWeb are an excellent premium choice for businesses looking for a dedicated or cloud server, with an emphasis on scalability for their company.
Compare Web Hosting Companies
Copyright © 2009-2018 How Vps All Rights Reserved.

By using our content, products & services you agree to our Terms of Service and Privacy Policy.

Reproduction in whole or in part in any form or medium without express written permission of How Vps is strictly prohibited.